Is anyone familiar with Soniccouture? It's the sample library company that experiments with instruments, releaseing such sets as a bowed piano, gamelans and-a choir made from the voices from people around the world?!
Actually, that's what i wanted to talk about. According to the website:
 "The 'Crowd-choir' was an idea for a crowd-sourced sampled instrument, partly inspired by the 10cc track 'I'm not in love', which famously featured a vocal pad sound created by painstakingly over-dubbing a single vocal note over and over again.
We wondered if we could get hundreds of people all around the world to sing one note each from a 3 octave range - then layer these recordings in a sampler to create a unique vocal sound - a wash of different voices in different rooms in different countries."
Starting in January 2012, they started taking notes. This is how you would've submitted: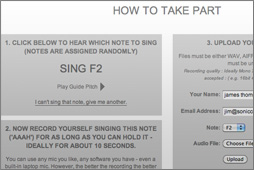 So, for two months until April 2012, they took notes, and beside that, there was a contest. The prize was one of the instruments they had sampled. The winner was announced in May 2012.
As time passed, Soniccouture kept us up to date on the project's progress, including making audio of a note they had put together. It sounded kinda mellotron-y, but it had that human quality to it.
"You can judge for yourself how it sounds, either from the audio demos or by buying the instrument ( all proceeds go to charity). But we think it worked very well, from a sonic perspective. We never intended it to sound like a natural choir; we expected it to sound very mellotron-like, as in the 10cc track. However, it surprised us ; the richness of 1000 different voices singing into different microphones in 1000 different rooms adds a depth that would be hard to ahcive any other way. And it's interesting that the varying recording quality of the many submissions really doesn't matter at all in the end result - if anything it adds more character, but never degrades the sound."
On June 27, 2012, Soniccouture posted demos of the finished product on its soundcloud page. The demos included the full ensemble playing 'Nun Komm Der Heiden Heiland' and several raw notes from contributors.
Finally, on June 28, 2012, I received this email:

Thanks for your help - here's your free instrument

Hi, Quinn Mason,
You're receiving this email because you contributed a note to the Crowdchoir project.
The instruments are finally built, and, as promised, you get a free copy.
Just enter the following code at checkout, and it will be free ( you need to login first ) :
ENTER CODE : XXXXXXXX

Excitedly, i went to the website and downloaded my copy quickly.
In Late March, i had recorded my entire vocal range (G2 to F3) and sent it to them.
What's amazing to me, is that I've never seen anything like this before, and i am so glad to have become a part of it.
Did any else do this? if so, please tell me, how it worked out.
For more info and a list of contributors, See here: http://www.soniccouture.com/en/products/28-ancient-rare-and-experim...
And to hear my demo for it, see here: http://soundcloud.com/quinnmasoncomposer/soniccoulture-crowdchoir-test

And to close on some words from Soniccouture,
"We'd like to say thanks to all who took part and made it such a unique success."
-Mason